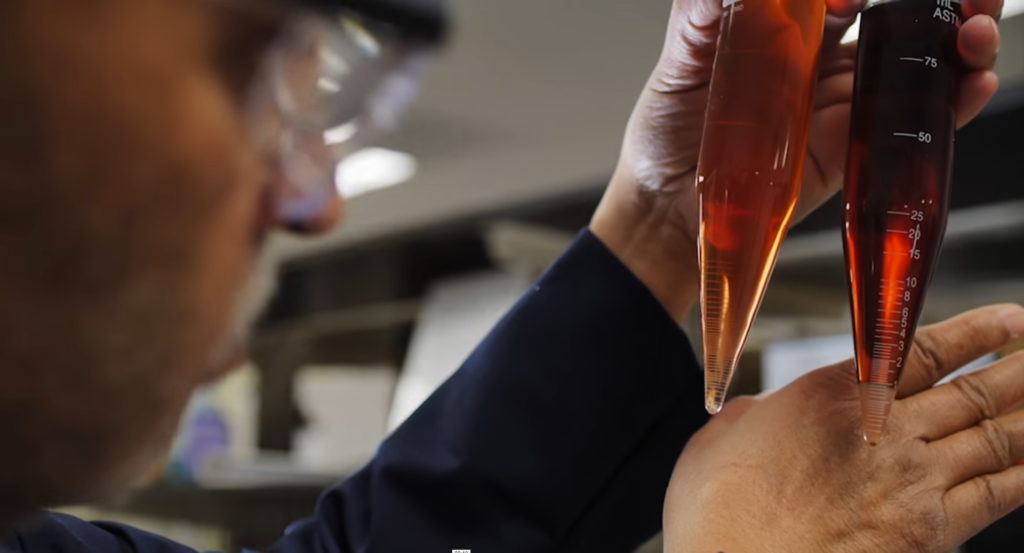 Cutting-edge research, testing, and product development
At VISCOSITY Oil, we understand that taking care of equipment is a priority for our customers. For this reason, VISCOSITY Oil runs a state-of-the-art laboratory where our highly trained professionals design and test quality products. Providing our customers with the best lubricants is our main priority.  
Since the beginning, our laboratory has been the basis for the development of new formulations that are born from market and OEM needs. In 1927, our chemists mixed olive oil, petroleum and asbestos to create Graigrene motor oil and meet the requirements of the popular Ford Model T. In 1946, we expanded our product line by formulating Sparks Waterless Hand Cleaner though neutralizing cotton seed fatty acids with ammonia. And in 1961, we produced Hy-Tran* ULTRACTION to help our customers with their problems of failing transmissions in tractors caused by using inadequate lubricants.   
Until this day, our laboratory continues to work hand in hand with customers and OEMs to develop new products, whether these be around regulatory requirements, performance needs, efficiency gains or new hardware launches. We work together to develop and conduct field trials in off-highway equipment, to test our fluids in actual OEM equipment, and to create methods and protocols for new formulations. Our quick turnaround, qualified professionals, and high-end technology are trusted by our partners.  
Our experience has taught us that formulating the right products, considering the specifications of each machinery, is crucial to decreasing your down time, lowering maintenance costs, and increasing equipment resale value. We balance cost-effectiveness, reliability and profitability to formulate high-quality oils and support our customers on KEEPING WORK IN FLUID MOTION.