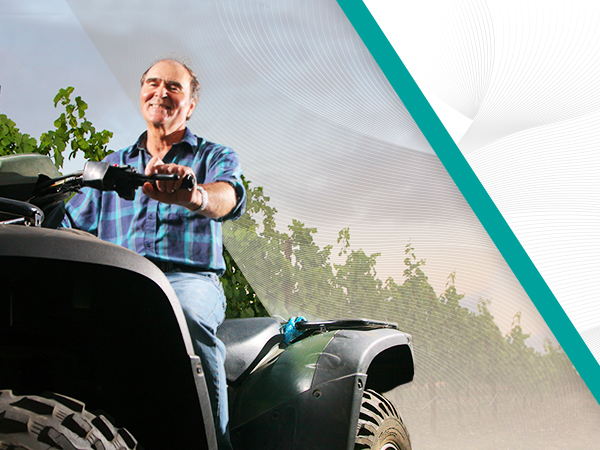 Agriculture is not only about the seeders, the tractors, and the power tools working in the field. Sometimes, it's all about practicality and ease of access, and for that, farmers have ATVs and UTVs to help them. Off-road vehicles are a great way to carry loads, travel across rugged terrain, and even perform fieldwork with a lighter vehicle in a concentrated area.
ATV is the acronym for all-terrain vehicle, a four-wheeler that can usually accommodate a single driver in a straddled seating position. ATVs are steered using handlebars, like a regular bike, with a thumb throttle to control acceleration and a brake handle or foot pedal to brake. They are designed to be maneuvered easily over challenging terrain and can sometimes be fitted with ROPS for protection against accidents. ATVs are often used for recreational activities as well.
UTV, on the other hand, refers to utility-terrain vehicles, much better fitted for fieldwork. With a broader and sturdier structure, UTVs are a great way of carrying equipment and loads while accommodating a side passenger. Unlike ATVs, UTVs are maneuvered using a steering wheel and, like cars, the acceleration and brakes are controlled by using pedals. Although they can be fast, they are not as agile or light as an ATV.
Which is the best for my field?
The most straightforward answer to this question is another question: what do you need the vehicle for? Truth is, both can fulfill similar tasks, but as the strength and maneuverability of both vehicles differ, the principle matter is to establish is what the vehicle will be used for and how to use their characteristics in the most advantageous way possible.
If you need to go about the field, monitor and inspect crops, livestock, and other overall processes, the best choice would be an ATV. They can move fast, maneuver quickly, and perform versatile tasks that do not have a heavy impact on the vehicle's strength or mobility, such as spraying and mowing. They can even take on some cargo, although the ATV will resent the extra weight with a lack of power. They can also become mobility aids for farmers that have difficulty reaching tough areas of their land. They are smaller in size, and easier to store in a barn or garage, at a lower cost. So, if it comes to saving space and money, an ATV would be the better choice.
On the other hand, UTVs are used for more heavy-duty tasks, given their hauling power and cargo space. They also allow for more people on board, which means the driver and their passenger can ride comfortably in the same vehicle. They allow farmers to carry heavy loads with ease such as supplies and materials, while also performing farm tasks that will benefit from the stability and power these vehicles have compared to ATVs.
Safety is another great consideration; UTVs are usually considered safer than ATVs, as they can be fitted with more security implements that protect drivers from overturns.
When it comes to these all terrain and utility terrain vehicles, some safety measures are quite simple, like strapping in with a fastened seatbelt. In fact, most accidents related to ATVs and UTVs occur when the driver or passenger is not wearing a safety belt.
However, it's always best to have the right equipment nearby, even for the most experienced of riders. This, among other considerations, primarily means wearing a helmet. Helmets that are approved by the DOT (Department of Transportation) are highly recommended for maximum protection against head injury. Protective gear such as eye goggles, gloves, over-the-ankle boots, long-sleeved shirts and pants are also recommended. When possible, it is best to be covered from head to toe.
Once riding, the next important action is to be observant and aware of the surroundings to have good visibility and keep an eye on the terrain before there are any mishaps. This includes monitoring for any uneven or steep territory, as well as anything that could get in the way of the vehicle and cause an accident.
It's also important to mention that these are very powerful vehicles and monitoring speed is key. Many accidents are rollover crashes from exceeding speed limits. As mentioned, ATVs are often for individual use and more than one person should not operate this vehicle. Not only can it be a distraction, but it can also influence the vehicle's center of gravity, making a rollover more likely.
To best prepare, drivers can always register for safety courses to operate such vehicles. It is also recommended to check local laws and regulations regarding the driving of ATVs and UTVs to avoid any dangerous activity.
ATVs and UTVs are versatile vehicles with a lot of power, so taking care of them is highly important to get the most out of your machine.
Before every ride, operators should always check the oil, as having the right levels will determine how much strain can be put on the vehicle. A common mistake is to neglect the routine oil check, which will cause a vehicle to lock up from lack of lubrication. Likewise, it is very important to check the radiator cap and coolant often to maintain a proper amount. Additionally, using a good quality high-octane fuel it is key to have the vehicle operating at peak performance.
Other important aspects to keep an eye on are the physical mechanics of your machine. Damaged cables or wiring can cause serious harm to your vehicle. The tires are an equally vital aspect, as these vehicles are heavy-duty equipment that go through all sorts of terrain. To avoid damage to the machine and to further protect passengers, reviewing the tires, along with the cables, is a crucial task to optimize its usage.
VISCOSITY Oil Company has all the products you need to keep your ATVs and UTVs working in peak condition. Our extensive line of coolants, greases, and lubricants has been designed to protect equipment from heavy stress at all seasons and you can browse them all in our product section. Do you want to take the VISCOSITY Oil route? Find us on  Amazon and eBay for a quick purchase, or visit our partners at Power Oil Center and Messicks Farm Equipment for more! You can also request your local dealer for the solution that you need, or contact us directly to find more about our expert portfolio, formulated for ALL!
Harvesting Success: Crop Rotation and Cover Crops Crop rotation and the use of cover crops are key tools for sustainable farming practices …
Product Datasheets: A Window to Fluid Performance For one of our expert chemists working at our lab, a datasheet may be very …
Read More