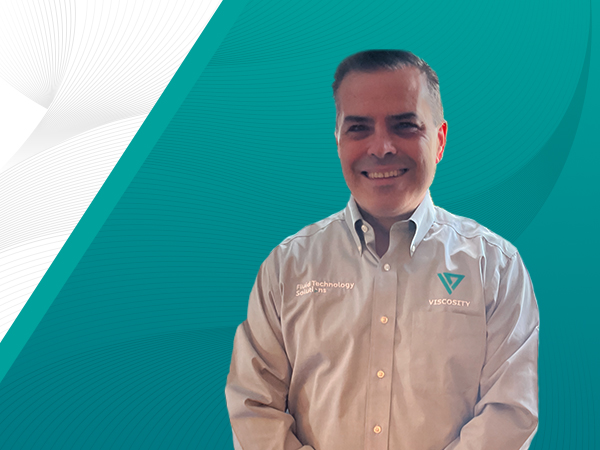 We build the business proposition value with our brand.

I grew up in Quebec, the French part of Canada, and I've been living and working here almost all my life. I've been a Territory Manager for VISCOSITY for six years; during the first two years, I was the only TM for Canada, but then around 2019, I began mainly covering the eastern part, particularly Ontario, Quebec, and the Maritimes.
I found the company online when searching for a job position in the summer of 2016. I had previously worked in other lubricant and oil companies, so I knew the business. VISCOSITY made me an offer after a face-to-face interview at Montreal in October that year with the company's CEO and my fellow TM Matt Pflieger—now covering Western Canada—and I gladly accepted.
At the beginning of my career here at VISCOSITY, my responsibilities were different; we provided product information and industry training to our OEM clients, building strategies to grow their business. Now my role is more direct. Besides providing our clients the same informative support and helping with their business strategy, I focus on specific accounts—whether existing or new ones I take the initiative to contact myself—, to look further into their oil requirements and provide recommendations for their particular equipment models. The bond with our partners is different, but I've maintained excellent relationships with dealers and still have great reception from them. They are not limited with our solutions: we can provide products that go with many different types of machinery, so that's the kind of meeting I'm having with them now and will continue having in the future. After all, we build the business proposition value with our brand. Implementing the current structure and the new way of doing things takes time, but our value product package now covers more ground.
Traveling has been part of my life for about 21 years and has become my daily routine. I move around on my own, driving primarily in Quebec and flying to Ontario. COVID made it very challenging; every province is different, so I had to adjust and adapt my schedule depending on the particular policies. Travel restrictions had also kept me from traveling to the US for face-to-face meetings. Regardless of the situation, we have weekly meetings with the team, and I'm always able to reach out to other TMs on the phone if I need some information or discuss something with them.
I have a small family. I have a younger sister, and I'm very close with my parents, so I keep in contact with them every day. I have two sons, ages 12 and 14, who are fascinated by technology and construction. One is more into animals, though, and is looking forward to becoming a veterinarian; my second son leans more into construction.
When it comes to hobbies, I've done a little bit of construction; I work on some small projects every once in a while. I'm very keen on mechanics, and I worked as a diesel mechanic when I was younger. When I started at VISCOSITY, I participated in some combined clinics in Saskatchewan, Alberta, because I wanted to understand how a combine works, its performance, and its issues. I'm now focusing on electric cars and understanding more about the technology and the type of lubricants they'll be needing to function correctly, especially around cooling devices for batteries, gear oil for the transmission, and grease for generators and bearings. I'm also passionate about motorcycles; I used to own some motocross, and I also own a Harley Davidson. I'm rebuilding old bikes from the '70s, so I put them apart and then put them back together, repaint them, and deal with the engine and the transmission. Learning about how they work and reading up on them is very interesting to me. I always want to learn more when it comes to mechanics.
David Journeault has been part of the VISCOSITY Oil Family as a Territory Manager for Canada for six years. As a French speaker, David fulfills the role of mediator and translator when the rest of the team visits Canada. His knowledge and language skills are a tremendous help to get information to dealers that fit their language and needs, providing excellent service to all his clients.
Maintaining your Construction Equipment The construction industry in the US accounts for a little over 4% of the country's total GDP.  It …
Oil degradation & fuel dilution Oil degradation and fuel dilution are two critical issues that can affect the performance and longevity of …
Read More