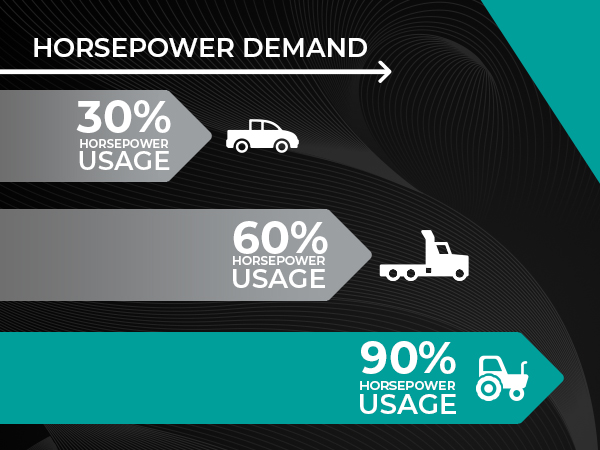 Different equipment requires specific and specialized formulations. The oils and lubricants you use on your everyday vehicle will not perform the same on your off-road equipment, no matter the products' quality, the power requirements between a mini excavator, a tractor, or any machinery used in field operations are, nonetheless, vastly different from each other.
At VISCOSITY Oil, we know how critical the quality of what you put in your equipment is for you and your work. We have formulated several products to account for the various needs that your daily operations and maintenance require, so it is really a matter of finding what's best for your equipment and following the manufacturer's recommended maintenance schedule.
To better understand the importance of choosing the right products, there is a very interesting and useful way to illustrate it. Have you ever heard of the 30-60-90 rule?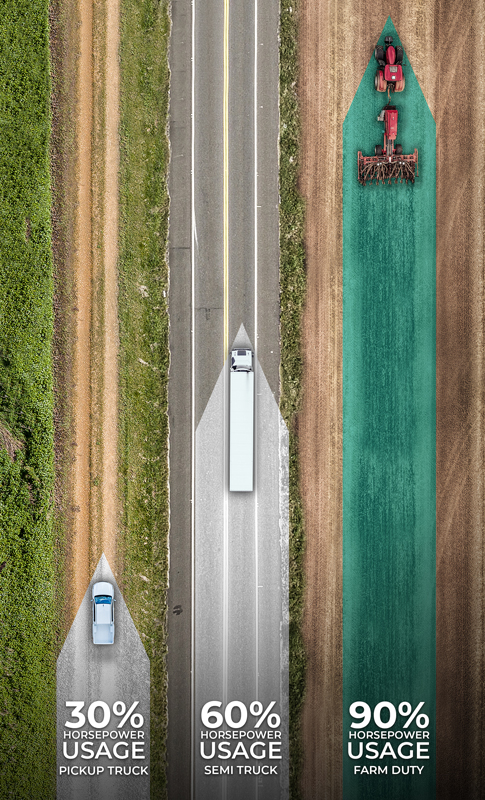 The best way to recognize just how different regular cars and trucks are from heavy machinery is to think about the 30-60-90 rule. This refers to the horsepower required for different vehicles to run properly on the road, and it notes that:
30% of the horsepower is required by a light-duty truck to run under regular conditions.


60% of the horsepower is required by a semi-truck to run on the highway while cruising, reaching its peak when going uphill.


90% of the available horsepower is often used in your agricultural or construction machinery while performing in the field.
As you can imagine, the strain and pressure levels between a regular truck and off-road equipment differ considerably. And so does the maintenance that must be conducted to ensure it keeps working efficiently. One of the biggest differences that you will find is the regularity of the preventative maintenance (PMs), which are also based on different criteria; for starters, regular vehicles and trucks receive a checkup in accordance with the mileage, while agricultural and construction machinery usually measures its maintenance intervals in hours worked.
Cars usually get PM after their first 30,000 miles on the road and continue to get them after each 30,000-miles mark as a preventive measure. That maintenance schedule is also referred to as the "30-60-90 rule" (a PM after 30,000, 60,000, and 90,000 miles), but that rule doesn't take into account the load (how hard the engine worked) placed on the engine during that period. For trucks, the recommended PMs happen after the first 10,000-15,000 miles of use, generally under regular conditions. Since reaching the mileages mark in off-road equipment is different from doing it in your city car or truck, one must take into consideration its much more severe duty cycle.
The general recommendation, regardless of the type of vehicle you have, is to conduct inspections regularly to make sure its operational. Changing oil, filters, coolants, checking the air levels on your tires. and a general visual inspection can make the difference and help you note possible issues. You can perform these revisions yourself following your manufacturer's recommendations, or you can ask a professional; either way, these inspections by themselves are not enough and require a more thorough intervention to make sure everything, from the mirrors, to the alignment, to the internal components, is working properly.
Remember: there is heavy-duty and then there is WORK-DUTY. For a piece of equipment that uses 90% of its horsepower during the majority of its operations, counting on lubricants and oils designed to withstand such pressure and strain is key to maintain your daily production, but also to keep you safe from any unplanned equipment downtime and increase costs of ownership. Here at VISCOSITY, we've designed our products to endure weather, corrosion, rust, pitting, and heavy usage, among many different aspects, to ensure durability. Our comprehensive portfolio of superior products offers diesel engine oil, transmission hydraulic fluid, coolants, and everything your off-road equipment needs, so browse our website and find what fits your equipment the best!  Combined with unmatched customer service and over 125 years of lubricant leadership, VISCOSITY is the trusted solution for your off-road equipment needs for ALL MAKES and ALL CONDITIONS — FORMULATED FOR ALL!
Women in Agriculture Women have always had a central and significant role in the US agriculture sector, and their integral participation and …
The Bee Effect: Keeping the World Abuzz The Bee Effect: Keeping the World Abuzz We have all heard about the "butterfly …
Read More