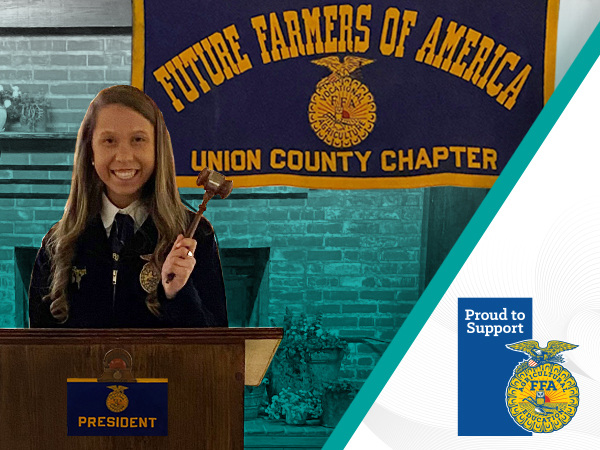 Development and innovation are concepts that we understand very well at VISCOSITY. Leading the lubricants and oil industry would not have happened without the great minds behind the ideas that have kept us moving forward, not only in our labs but in every single part of our company.
Education, training, and preparation for the challenges that arise every day allow us to increase our opportunities to succeed and improve the quality of life for our customers and communities. We mirror that spirit in everything we do, and that is also why we believe educational institutions are fundamental to bringing about these changes. Among all, the National FFA Organization is one we keep very close to our hearts.
The National FFA Organization
The National FFA Organization is a student organization for young people aiming to become part of the agricultural business and take on leadership positions in various fields. Initially founded by a group of young farmers in 1928, its primary goal is to help develop the minds and careers of future leaders and professionals who are rising to the challenges that society faces today. With chapters nationwide, they not only focus on academic achievements, but also community outreach, advocacy, and engagement. Their scholarships, grants, and various events aim to provide students with a comprehensive view of the world while developing the necessary skills to become a professional within the agricultural industry and in any career path.
The National FFA Organization works with the Agricultural Education Model around three main pillars:
Contextual Learning: inquiry-based education within an interactive classroom or laboratory.
Experiential Learning: work-based and hands-on activities outside the classroom, such as SAE (Supervised Agricultural Experience) programs.
Leadership Learning: through personal growth and engagement within organizations such as the National FFA Organization and others associated with the field.
As supporters of this academic organization, VISCOSITY aims to help develop a professional profile that includes knowledge and preparation on the importance of fluids within the agricultural and construction equipment scope. Training and learning on this aspect of the business will place the future leader in an advantageous position, where they understand the importance of every part of operations conducted in and out of the fields.
Moreover, presenting this line of development to the new generations opens an opportunity to bring in new ideas and solutions to the lubricant and oils industry, creating spaces of investigation and research powered by curiosity and creativity. On-site activities and field training will provide students with direct contact with the materials, qualifications, skills, and fundamentals to get involved in an area around agriculture.
Browse our website to view all the innovative premium products we have developed for you! For more information on the National FFA Organization, you can visit their website https://www.ffa.org/.
Women in Agriculture Women have always had a central and significant role in the US agriculture sector, and their integral participation and …
The Bee Effect: Keeping the World Abuzz The Bee Effect: Keeping the World Abuzz We have all heard about the "butterfly …
Read More